NAWBO SV Events

5 Steps to Being the Star in the "Talk Show" of Your OWN Life
September 19, 20176:00 pm

-

8:30 pm

Award-winning Talk Show Host & Producer Janice Edwards will speak to us about connecting with your clients through media.  She understands the unique challenges that entrepreneurs face when it comes to sharing the story behind your business success and engaging clients and customers who are hungry for what you offer — yet may not even know it.
In this presentation, Janice will share inside tips on creating a memorable experience for those you want to reach and why YOU may be the best spokesperson for sharing your purpose with the world.
Janice is a dynamic and much sought-after speaker. Expect a high-energy entertaining presentation rich with positive and actionable tips for your business.
Member and Guest of NAWBO Member: $50
Non-Member/General: $65
Buffet dinner will be served. No host bar is available and parking is FREE in the underground garage after 5:30 p.m.
Speaker/Presenter(s):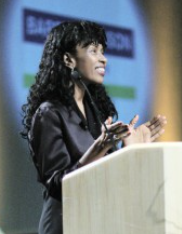 Janice Edwards is an award-winning talk show host and Emmy-nominated producer, media coach, published author, and acclaimed contributor to community empowerment through her media work. She is the host and executive producer of "Bay Area Vista", which is produced through her production company, Edwards Unlimited. The show focuses on community leaders, celebrities, nonprofit organizations, and issues of interest.  Janice is also the host and executive producer of the show she named "Signature Silicon Valley".
Her company Edwards Unlimited produces high quality videos for six and seven figure entrepreneurs, corporations, and non-profit organizations to help them share their success and their philanthropic mission and vision with the world.
A long-time friend to NAWBO Silicon Valley, Janice has received recognition from NAWBO. Other awards include a 2015 WAVE nomination for Signature Silicon Valley", 2013 Trailblazer Award from the National Coalition of 100 Black Women San Francisco (which included congressional and legislative commendations), the 2013 Hometown Media Award to "Signature Silicon Valley" as Best Informational Talk Show, the 2011 CreaTiVe Best Series Producer award for "Bay Area Vista" (presented by Steve "The Woz" Wozniak and Joe O'Kane), a 2010 Emmy nomination, 2011 and 2010 nominations for Woman Entrepreneur of the Year, the 2010 NAACP W.E. Dubois Award, the 2010 Community Service Award from the Alpha Kappa Alpha Sorority of Silicon Valley, and, in 2009, the American Heart Association's Western Regional Communications Award. Her awards in 2008 included Woman of Excellence for Advocacy (Woman of the Year Award) by the National Coalition of 100 Black Women, Silicon Valley chapter; the Caring Through Communication Award from the American Cancer Society; and the Bronze Award from Junior Achievement.
Janice's career includes 17 years of on-air and production work with San Francisco/Bay Area NBC stations- NBC Bay Area  and KRON (when it was the NBC affiliate),  and working as a special projects producer and news writer at CBS 5 and host and contributing producer of KBHK's "Black Renaissance.
Her hundreds of notable interviews include Barack Obama, Oprah Winfrey, Madeleine Albright, Dr. Deepak Chopra, Robert Redford, Rachel Maddow, Kerry Washington, John Travolta, Jerry Seinfeld, Gloria Steinem, Iyanla Vanzant, Chris Pine, Josh Hutcherson, Dr. Cornel West, and the WWF's John Cena. Janice is co-author of the book "Quality Angles," featuring interviews with Kevin Costner, Robert Townsend, veteran news anchor Evan White, and the late Lloyd Richards of the Yale School of Drama.
Janice's career in broadcasting began in Atlanta, Georgia, as co-host of a teen radio talk show. She continued to work in radio and to write for English and Spanish newspapers as an undergraduate at Harvard University and a graduate student at UC Berkeley School of Journalism. Before graduating cum laude from Harvard, she studied in Spain. Each year, Janice serves as an emcee for dozens of events as part of her commitment to community empowerment and service to others.
---
Other Events