NAWBO SV Events

NAWBO x Macy's Fashion Show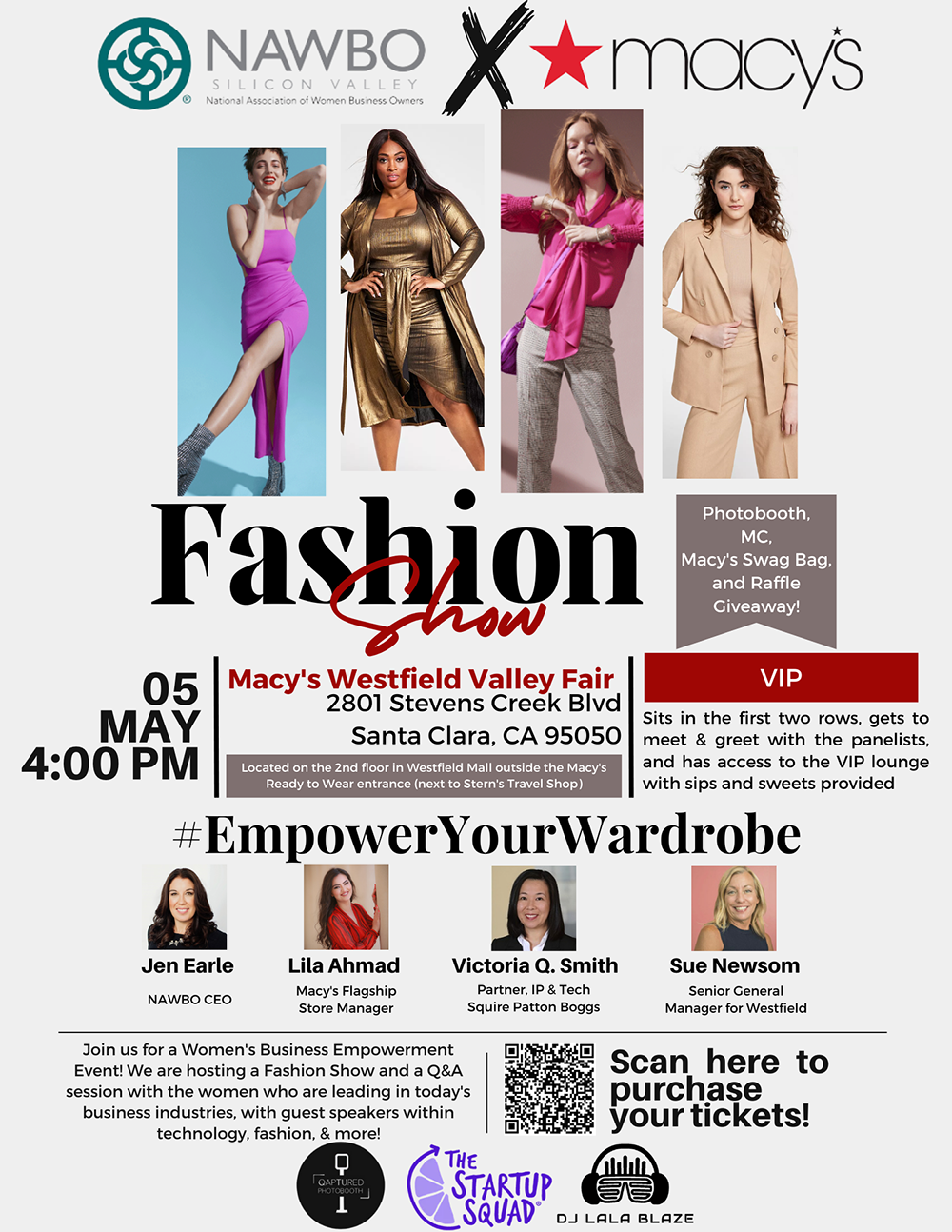 Friday, May 5, 2023 | 4:00 pmJoin us for our 1st Annual NAWBO SV x Macy's Fashion Show. This event is a celebration and fundraiser for organizations that support girls and women entrepreneurs.
Our 2023 grant recipient is The Startup Squad.
The Start Up Squad was founded by Brian Weisfeld and inspired by his daughters. The Start Up Squad promotes the belief that entrepreneurship can empower young girls to develop important life skills, follow their passions, and reach their potential.
Meet Brian and hear more of his inspiring story at the NAWBO Silicon Valley x Macy's Fashion on Friday, May 5th at the Westfield Shopping Center Valley Fair.
Women are reshaping the fashion industry, from innovation to sustainability, inclusivity, and function. Join us for an evening of conversation and insight as we explore the power of fashion and how it can be used to build a better future.
Hear from Jen Earle, NAWBO National CEO about a community of thousands of leaders, visionaries, innovators and trailblazers—of all sectors, sizes and stages of business development—who understand you and can help you succeed in your business, lifestyle and community in a way like no other.
Tickets: VIP
Exclusive VIP lounge access
Meet the stars of the show—our panelists. Meet & greet and sips & treats
Swag bag with $25 Macy's gift card
(1) raffle ticket
Priority seating at first 2 rows closest to runway
Priority access to the photobooth
Swag bag item inclusion (approved in advance)
Option to donate a raffle item
Non-member $115 | Member $85
—
Tickets: General Admission
Swag bag with $25 Macy's gift card
General seating
(1) raffle ticket
Non-member $60 | Member $45
—
Tickets: Student
Swag bag
General seating
(1) raffle ticket
Just $20 for middle, high school and college students
MEET THE PANELISTS
Jen Earle, NAWBO National CEO
Jen is CEO of the National Association of Women Business Owners (NAWBO), where she works collaboratively with the National Board of Directors to implement their vision and ensure an ever-vibrant organization. She joined NAWBO in 2008, bringing with her an extensive background as a woman business owner in commercial music production and virtual operational support. At NAWBO, Jen has reactivated the organization's 501c(3), the NAWBO Institute, and successfully navigated NAWBO and its members through an unprecedented pandemic. Jen also serves as Executive Director of the NAWBO Institute and is an Advisory Member for Enterprising Women Magazine, Council member for the National Women's Business Council and a member of a special task force for the FCEM (World Association of Women Entrepreneurs) Steering Committee.
Lila Ahmad, Flagship Macy's Store Manager
Lila Ahmad, started in the Executive Development Program with Macy's upon graduation from Cal State East Bay with her Bachelor's in Corporate Management and completed her Master's in Innovation in Technology from Santa Clara University. Lila has been with the company for 10 years in 8 different locations, 7 executive roles, and 3 Senior Manager roles. Lila has also been in 5 exclusive development programs within the company and had the pleasure of being mentored by our CEO Jeff Genette. Currently Lila is the Store Manager of one of the eleven flagship locations within Macy's, and our Valley Fair location produces 100 million annually.
Sue Newsom, Senior General Manager, Macy's, Valley Fair
Sue is the Senior General Manager for Westfield Valley Fair and Westfield San Francisco Centre. The #1 in sales of Westfield nationwide.
Sue is a driven leader dedicated to cultivating an unsurpassed guest experience.  Sue has strong values and takes pride in her community and team.  As a mother of 2 beautiful children, Sue has a strong maternal instinct and others quickly notice her genuine warmth and hospitality.  Sue relocated and joined Westfield 6 years ago, and she immediately fell in love with Valley Fair.  A proven retail leader with a strong track record, Sue has helped shape Valley Fair into Silicon Valley's premier shopping, dining, and entertainment destination.
Victoria Smith, Partner, IP & Tech (Squire Patton Boggs)
Victoria Smith is a partner in the Intellectual Property & Technology Practice Group. Her experience, expertise, and passion make her a valuable partner for clients facing complex intellectual property and technology litigation matters. Her ability to frame cases for trial, assemble the right team of lawyers, and provide creative and passionate advocacy make her an exceptional litigator. In the competitive environment of the Silicon Valley, it can be challenging to rely on others. However, Victoria learned that building a network of trustworthy colleagues and partners is essential to succeed in the long term. Trusting others allows us to delegate responsibilities, share knowledge, and collaborate on projects, ultimately leading to better results.
Moderator: Lauren Dunasky, Macy's
IN KIND SPONSOR
GRANT RECIPIENT
---
Other Events