Dear NAWBO Silicon Valley Members & Friends,
FALL is here, my most favorite time of the year. Enjoy the last bit of warm weather, relish our golden hills of California, and the many vineyards embellished with vibrant colors.
Last month we had our inaugural Revitalize "Business Time Out" in Santa Cruz. It was fun and refreshing and we enjoyed a casual lunch on the beach and a relaxing stroll through the Redwoods. Thank you, Robin Fisher and Megan Herrity for coordinating and hosting. It truly was a marvelous day.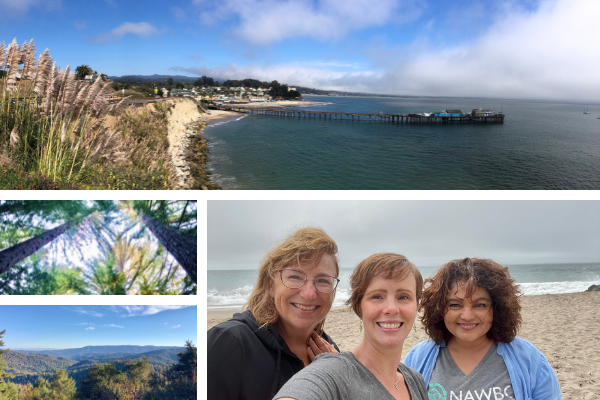 This month we celebrate National Women's Small Business Month. Listed below are some interesting statistics in the recent Bank of America 2021 Small Business Owner Report conducted by Ipsos Public Affairs.
The online survey between March 11th and May 1st, 2021 included a national sample of 995 small business owners in the United States with annual revenue between $100,000 and $4,999,999 and employing between two and 99 employees, as well as 300 interviews of Hispanic small business owners, 300 interviews of Black small business owners and 100 interviews of Asian American small business owners.
Women small business owners were asked about the impact of the pandemic, their goals and priorities, and the effect of the community on their business. Despite challenges of the past year, women business owners predict economic growth and a strong business outlook for the year ahead. Most women business owners expect their revenue to increase over the next year and are optimistic for the future of their business.
61% in 2021 expect revenue to increase vs. 31% in 2020
57% in 2021 believe their local economy will improve vs. 32% in 2020
50% in 2021 believe the national economy will improve vs. 28% in 2020
20% in 2021 plan to hire vs. 11% in 2020
50% of women entrepreneurs have changed, or plan to change, their approach to employee wellness and benefits as a result of the pandemic
48% of women entrepreneurs cut their own pay to keep employees on staff, amid the pandemic
The Power of Community Support reflects almost half (46%) of women entrepreneurs have volunteered to help their local communities throughout the pandemic. In light of the social justice movement, 29% of women business owners are looking to partner with more minority- and women-owned vendors.
Let us all do our part and support each other and other women's businesses.
Did you know? NAWBO Silicon Valley and NAWBO not only have local and national events, but we also have international as well. Peek at our international affiliates and their in-person events here.
Have a suggestion for a program? Let us know by contacting us today at info@nawbo-sv.org.
Be a part of the conversation and join our leadership team or consider a committee member position and remember, we have YOUR seat at the table.
NAWBO Silicon Valley is a volunteer organization dedicated to meeting the needs of our members, affiliates, and corporate partners. Together we make a difference.
"I attribute my success to this: I never gave or took an excuse." … Florence Nightingale
From your team Griselda, Wendy, Lauren, Marina, Robin, Maxine, Flor, Amanda and Kaity.
#NAWBOSV #NAWBO #NAWBONation