I've just returned from the NAWBO Women in Business Conference, and I'm thrilled to announce that NAWBO Silicon Valley has been honored with a special recognition for our outstanding membership retention efforts.
We hosted a delegation from our sister organization, AMEXME, which encompasses a diverse range of businesses in technology, finance, construction, fuel & oil, interpreter service & audiovisual, medical tourism, and agriculture retail with a presence in both Mexico and Texas. NAWBO Silicon Valley remains at the forefront, distinguished as the sole nationwide chapter with an international department.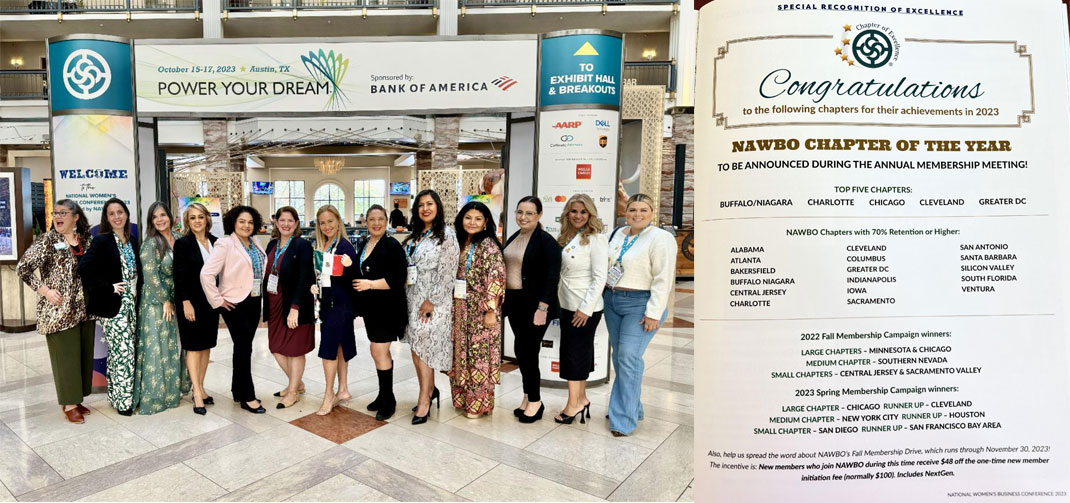 Additional conference highlights include:
NAWBO pillars: Leadership – Advocacy – Education – Wellness
NAWBO Core Values: humility, integrity, servant heart, team player, open mindedness, reliability, inspiring and community.
NAWBO Advocacy Agenda:
Addressing the needs of the microbusiness and encouraging emerging entrepreneurs
Workforce
Accessing capital through increased financial literacy education and digital tools
Caring for the business owner and caregiving flexibilities for the employee
Creating leadership for a world of change and propelling women into political, social, and economic spheres of power. At NAWBO, we're all about celebrating amazing women and what they've achieved. Come join our lively community and share the excitement with a friend, inspiring them to be part of the journey with you and make the most of the NAWBO fall membership drive and seize the opportunity.
"Alone, we can do so little; together, we can do so much." —Helen Keller
Griselda Quezada-Chavez
NAWBO Silicon Valley President
#NAWBOSV #NAWBO