Dear NAWBO Members and Friends,
If you attended our Crystal Chair Awards Gala in February, I hope you enjoyed the elegance and camaraderie of this gala event to celebrate women business owners in Silicon Valley. The evening was the culmination of much planning, teamwork and dedication to excellence. Sounds a little bit like what we women business owners do every day in our businesses! It was about celebrating the history of NAWBO-Silicon Valley, celebrating this year's award recipients and recognizing the talents of women who have been courageous enough to bring their chairs to the table over the years to empower other women business owners.
An event like this is possible only with the help and dedication of many people. I'd like to thank our sponsors who donated money, time and often their own sweat equity to making the event a huge success. Thank you to our key financial sponsors – Hood & Strong & Farmers Insurance, California Special Occasions (Maxine Goulding and her event team set a beautiful table), The Oya Group (Karen Hebert created all logos and brand feel for the gala), Brand Via (Sam Brown for the beautiful pens and related swag), Loring Ward/Werba Rubin (Aaron Rubin for the beautiful venue downtown), Copa Design (Jason Saldana and his team for our printed program and signage), Abbott Stringham & Lynch (wine sponsor), and Miles Consulting Group (flower sponsor). We also had a couple people who helped us capture the feeling of the event. Thanks to Erika Svensson of With a K Produktions for her videography and Roberto Gonzales of Nueva Foto for the photography. We will be sharing the photos and video from the event in the next month or so. We'll let you know when it's ready.
The event also would not have been the same without our inspirational keynote speaker Madison Nguyen, former Vice Mayor of San Jose, and our emcee the fabulous Janice Edwards. Thank you to our NAWBO National CEO, Jen Earle for making the trip to join us in celebration and share information about our national organization.
Big congratulations to our award winners: Carla Cobb Davis of BizBox Technology won The Crystal Chair Award for lifetime achievement.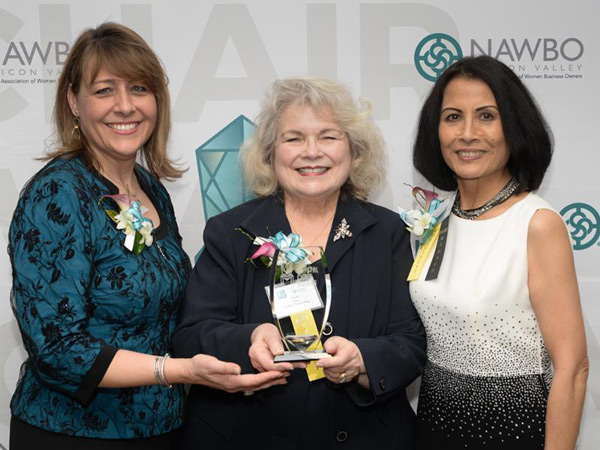 Sandy Jamison, Tuscana Properties won The Woman of Distinction Award.
Vandana Agrawal, BringMax won the Woman Business Advocate Award.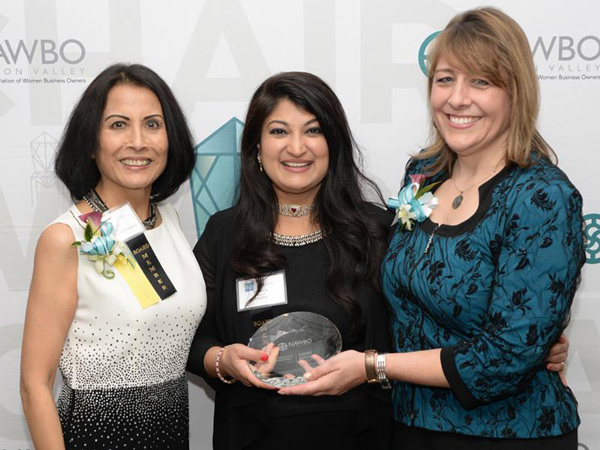 Finally, thank you to our many raffle prize donors for adding some fun to the evening as people vied for prizes including beauty packages, wine baskets, a tea basket, Sharks tickets, and even a 7 day getaway vacation! And to our table sponsors who proudly displayed their companies in the event space. And to our many NAWBO members who assisted during the event to make it appear seamless!
When the NAWBO-Silicon Valley Board brainstormed this event, we wanted to create an event with meaning and purpose that would become an annual celebration of women business owners in our community. The name "Crystal Chair" is in honor of NAWBO's founding President, Susan Hagar who said "Get a seat at the table or build your own table, and make sure to include other women." In looking out over the crowd of women business owners, Past Presidents of our chapter, sponsors, guests and family members, I felt a huge swell of pride in this organization, our community and the things that we accomplish together as an organization of women business owners. If you enjoyed the event, please reach out and help me to thank our board members Maxine Goulding, Jennifer Dizon, Pam Hedblad, Karen Hebert, Flordelisa Harris, Griselda Quezada-Chavez, and Vandana Agrawal, and our administrator Marit Fox. And tell your friends about NAWBO and the energy of the women in the room.
Remember, while not every NAWBO-Silicon Valley monthly event is quite such a gala, membership, community and education IS a part of every meeting. Check out our upcoming events and join us in
March
when our event will be held at the corporate offices of ALOM in Fremont.
Fondly,
Monika Miles